Each year we have an annual lecture, and since 2010 these have been held at the National Library of Ireland, to whom we are are grateful for their continued support. Below is a list of some of our most recent annual lectures, which reflects the interdisciplinary nature of SSNCI.
2022
'Possessing Ireland: George Petrie and the Translation of Landscape'
Dr. Elizabeth Tilley (National University of Ireland Galway) 7pm Thursday 27 January 2022.
Irish artist George Petrie (1790-1866), painter, antiquarian, folklore collector, founder and co-editor of the Dublin Penny Journal and editor of the Irish Penny Journal, was in high demand at the beginning of the nineteenth century as an accomplished illustrator of Ireland's urban and rural environment.
Petrie was trained as a landscape painter, but he adapted the style and formal elements of landscape painting in order to express a sense of cultural difference. The views he produced are ones that insist on the central importance of symbolic structures: architecture, land forms, human figures. 'Visual possession' of these physical aspects of Ireland was offered to a wide audience through the circulation of images as high art, as steel or copper engravings, and as wood-engraved illustrations in the penny press.
This lecture will discuss Petrie's translations of media, reflecting his belief in the necessity for the visual preservation and wide ownership of a fast-disappearing landscape.
Image caption: Edward Goodall, engraving after George Petrie, Dublin, From Phoenix Park, c. 1829, from G.N. Wright, Ireland Illustrated, London, Fisher, Son & Co., 1829-1831.
Dr. Tilley's lecture will be broadcast via Zoom. Click here to book a (free) ticket.
2021
'Searching for a "normal" Irish person: metrics and race in nineteenth-century Ireland'
Dr. Ciaran O'Neill (Trinity College Dublin) 7pm Tuesday 19 January 2021.
Ireland played a surprisingly central role in the evolution of physical anthropology: a field that quickly became focused on connecting racial and criminal 'degeneracy' under the guise of a scientific search for the 'normal,' 'average', or 'typical' example of any given ethnic or social group. This exploratory paper will trace the evolution of the field in Ireland through the nineteenth century and question what the search for a 'normal' or 'average' Irish person was really about.
Dr. O'Neill's lecture will be broadcast via Zoom. Click here to book a (free) ticket.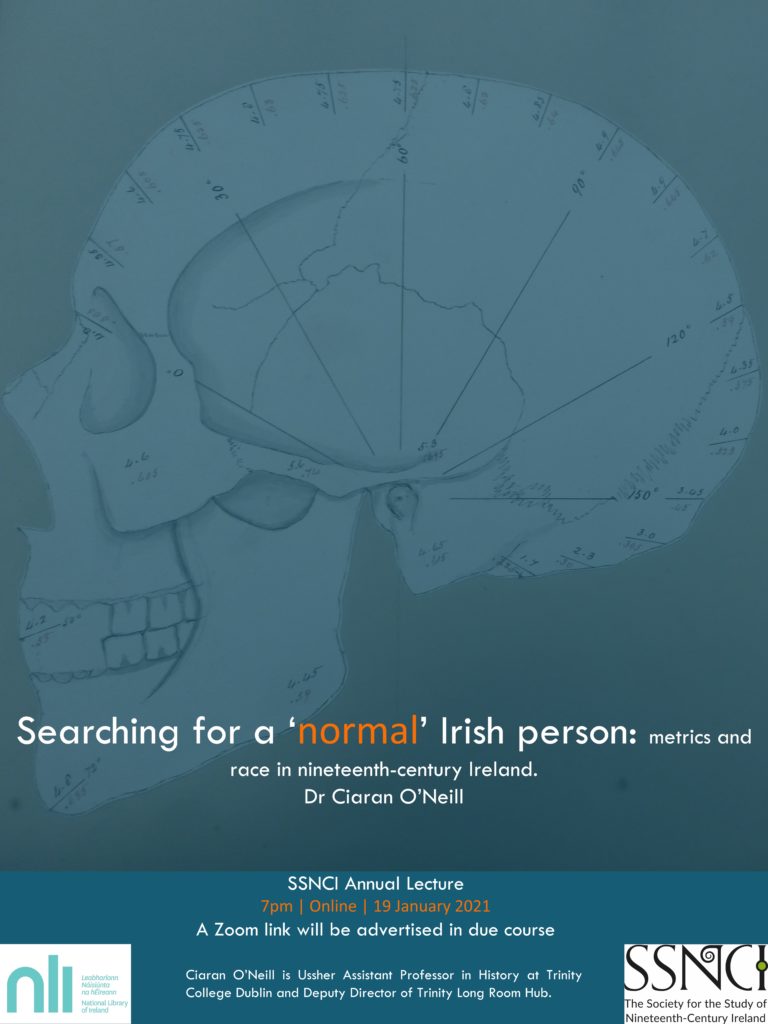 2020
'Pray for the donor: Money and the Irish Catholic Church, 1850-1921'
Dr. Sarah Roddy (University of Manchester) 6pm Wednesday 22 January 2020.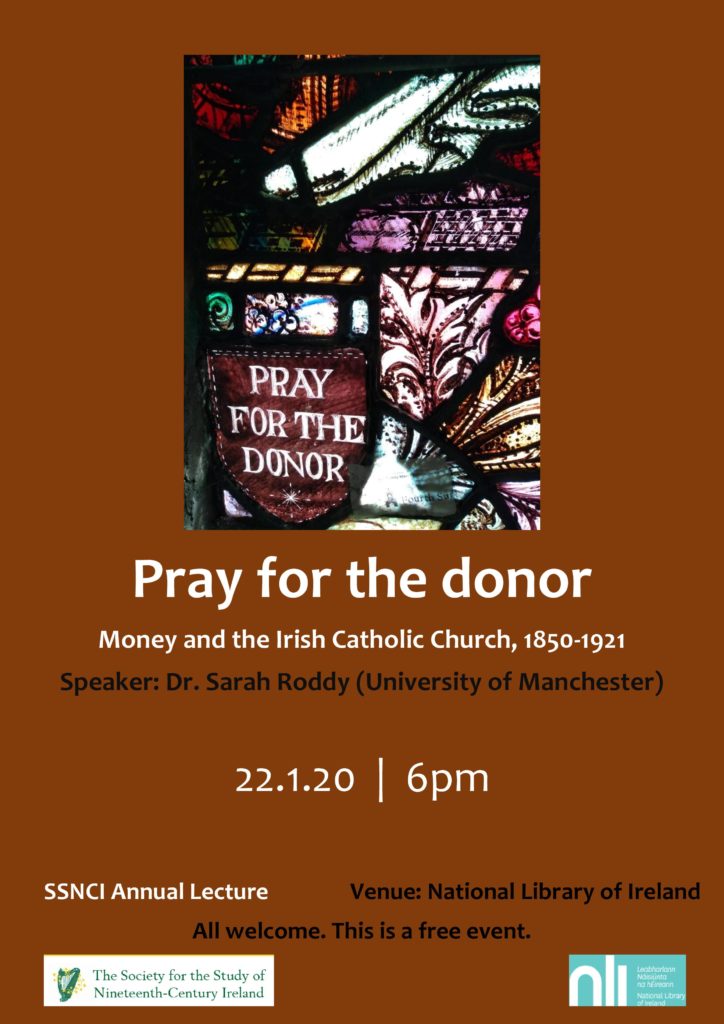 2019
'Maria Edgeworth and the late Scottish Enlightenment:correspondence and community'
Dr. Jane Rendall (University of York) 6pm Wednesday 16 January 2019.
2018
'Agrarian Secret Societies and the Land War in late Nineteenth-Century Ireland'
Dr. Laurence M. Geary (University College Cork)
2017
'Tracking "Bad Bridget": Criminal and Deviant Irish Women in North America, 1838-1918'
Dr Leanne McCormick (University of Ulster)
2016
'Powers of Redemption: The Irish Famine as a Crisis of Governmentality'
Dr David Nally, School of Geography, University of Cambridge
2014
'Maria Edgeworth on the Holyhead Road'
Professor Claire Connolly, Head, School of English, University College Cork
2013
'Rethinking the language shift in nineteenth cenury Ireland'
Dr Niall Ó Ciosáin, Senior Lecturer, Department of History, NUI Galway
2012
'Landlord-tenant relations on the duke of Leinster's estate, c.1838-1903: social memory and reality'
Professor Terence Dooley, Director of the Centre for the Study of Historic Irish Houses and Estates and Senior Lecturer, Department of History, NUI Maynooth
2011
'When the best British sculptors were Irishmen'
Dr Paula Murphy, School of Art History and Cultural Policy, University College Dublin
2010
'John Henry Newman and the bonfire of the humanities'
Professor Declan Kiberd, Donald and Marilyn Keough Professor of Irish Studies, University of Notre Dame
2008
'Politics and the Writing of History in 19th-Century Ireland'
Professor Paul Bew, Professor of Politics, Queen's University Belfast (held at Queen's University Belfast, 13 March 2008)

2006
'Captain Rock: The Irish Agrarian Rebellion of 1821-24'
Professor James S. Donnelly, Jr., Professor (Emeritus) of History, University of Wisconsin-Madison (held at NUI Galway, 13 December 2006)
2004
'Changing perspective on the nineteenth-century Irish diaspora'
Professor J. J. Lee, Glucksman Chair of Irish History, NYU, (held at UCC, 14 January 2004)
2000
'After the Burning of Bridget Cleary'  
Professor Angela Bourke, Professor (Emeritus) of Irish Language Studies, UCD, (held at Bank of Ireland Arts Centre, Foster Place, Dublin 2, 1 March 2000)
1998
'Ireland under the Union: towards a balance sheet' '  
Professor Gearóid Ó Tuathaigh, Professor (Emeritus) of History, NUIG, (held at Bank of Ireland Arts Centre, Dublin, 4 March 1999)